What will $4.22 buy you while STILL expecting a $19.98 rebate??

See for yourself: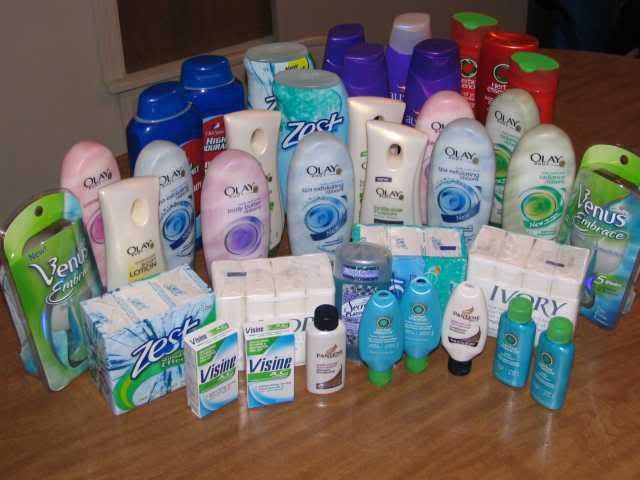 That's:

8 Olay Ribbon body washes
3 Olay Botanical body washes
1 Olay in shower lotion
2 Zest body washes
2 Old Spice Hair & Bodywash
3 Aussie shampoos
1 Aussie conditioner
2 Herbal Essence shampoos
1 Herbal Essence conditioner
2 Venus Embrace razors
2 Zest bar soaps
2 Ivory bar soaps
2 Visine allergy eye drops
2 travel size Pantene (1 shampoo, 1 conditioner)
4 travel size Herbal Essence (2 shampoo, 2 conditioner)
1 Secret deodorant

After coupons, total spent was $90.22 with $86 in instant register rewards to be used on future orders
Plus rebates on the razors for $19.98 (1 for Heather and 1 for me)

My best deals? Visine was on sale for $2.99 each - I had $2 off coupons. The bar soap was 2/$4 with $4 back in register rewards. Plus I had coupons. The travel size Pantene and Herbal Essence were like the full size things - buy 6 and get $12 in register rewards back. But they were $1.29 each and 99 cents each!! So I spent $6 on them and got back $12. Oh, and the RAZORS! $9.99 sale price - $4 coupon - $5 register reward + $9.99 rebate = $10.98 PROFIT on each one of them!

I didn't even take pictures of the deals we got on candy and toothbrushes (the irony of the combination does not escape me
). Suffice it to say, it was also a great deal and I now have plenty of candy for cooking and rewards at school. I'm glad candy freezes well!

Oh, I did buy two Sunday papers last week to get plenty of coupons for this weeks' sale. So I guess you could say all that cost me $8. Still a FANTASTIC deal.


Head over to Money Saving Mom's blog for more Super Savings Saturday!